Artist Bio 
My artists journey started from beginning to learn the drums at the age of 8 and sticking with all the practicing involved, and not really knowing why for a number of years, other than that my parents wanted me to practice and that I liked being part of bands. I liked being part of the group. 
I formed a rock band in high school with a group of close friends called Day One. I loved being a part of the band and loved that we could decide what music we wanted to play. It was great being a part of the band and I also hoped that girls from my high school would notice me more since I was in the band. Then something happened. I remember the day like it was yesterday. Our band Day One was playing for an event that was hosted by my friend's family for Harvard University at my friends house when all of a sudden a rush of emotion made me feel like I had never felt before while we were playing a song and it was a feeling that was about the intimacy in the relationships that I felt with the members of the band which was facilitated through the music that we played together. It was a new experience, but I did not know if it was a one time experience or it would occur again. I wanted it to be a part of my life.
It's been many years later since that day in high school. I have found that same feeling in every creative experience I involve myself in. I am also a jazz dancer and composer now. I am a manager and DJ, executive producer and individual artist. Through all of the creative endeavors it is the same. I am driven by the emotional experience and intimate connections I make with the members of a band I am in, the members of a dance group I am in, the audience I reach when I take part in song creation, the relationship with a singer I manage to help her realize her dreams and any and all relationships I am in that involve creativity. Creativity also creates a more intimate relationship with myself and who I am as a person. That's why I create. It's a powerful and very real way of forging an intimate relationship with myself and the world that we all share. 
As I continue to create, my journey will evolve and I will continue to learn. I look forward to new experiences and connections and experiences as well as my current collaborations and connections continuing to grow.
I have been fortunate enough to work with/done business with some great musicians including: 
Underground Productions, Rich Cronin, Taryn Murphy,  Cori Yarckin, 
Grammy winning publisher Mark Meckel (Emmy Lou Harris 2006, The Connection), Nathan Meckel, 
Burton Collins (Celine Dion), Chrissy, The Rondo Brothers  and Christophe Piot 
I have been involved with songs that have been licensed for Melrose Place, Pop School (Licensed theme song), Masters of Horror, Redbana Dance Audition (video game), Prison Break, Joan Rivers "How'd You Get So Rich" on TV Land.. Chrissy's song Strut which I am involved with has over 1.2 million plays on Iheart Music, formerly Clear Channel Discover New Music. Their has been rotation of Strut on KISS XM 21 (Clear Channel). 
I am a drummer and dancer (jazz dance) and attend Berklee Online. I also publish and own several fashion and music websites including Boston Fashion And Music , LA Fashion And Music and I DJ and own my own music podcast Music That Lasts  which was aired on CBS Radio, KYOU Radio and Tower Records TowerPod.
As I continue to grow my career as an Executive Producer I am always looking for new, high quality collaborations. I have also returned to Berklee College of music in Berklee Online, taking courses to finish my degree in Music Business. 
Email: evan@evanshapiromusic.com 
 
Résumé
 Owner 
Company Name: Evan Shapiro 
Dates Employed: Feb 2003 – Present 
Location: Boston 
Songs that I have collaborated on have been placed in shows including Prison Break and Melrose Place and a pilot tv show which was produced for the Oxygen Network (licensed theme). I also have extensive experience managing models and singers. I have worked with several prominent music producers and publishers. I am very passionate about great creativity and I want every project that I am involved in to be the very best it can be.
Senior Research Analyst and Technology Lead 
Company Name: Definitive Healthcare 
Dates Employed: Sept 2011 – Present 
Location: Framingham, MA
Senior Research Analyst and Technology Lead-Healthcare Technology 
Conducting market intelligence research (technology) for the leader in market intelligence(healthcare industry).
Future Career Plans and Goals:
I returned to Berklee College of Music in 2017 to the Berklee Online Program to finish my degree in Music Business. My goal is to finish in 2022. I will continue to collaborate with great musicians that are innovative and are all about working together to create high quality music and connecting with fans. As an Executive Producer, I will continue to oversee high quality projects. With my experience securing licensing deals, I will continue to grow my network of Music Executive contacts and pursue licensing deals that monetize the music as well as have strategic value. Between continuing to pursue licensing deals and also increasing the amount of song writing that I am doing, my goal is to generate enough royalties to do music exclusively within 5 years from now. In relationship to that goal I am taking a lyric writing course at Berklee Online beginning in the Summer of 2019 and plan to take additional song writing courses to increase my song writing skills.
Press Release-Writing Sample
For immediate release:
Chrissy the Power Rock Pop Queen and Rich Cronin Deliver With "Big"
(PRWEB) May 24, 2005 -- Release of new song "Big" on May 19, 2005 coincides with the pending release of Chrissy's cd "Relentless."  Chrissy's exceptional vocals and Rich Cronin's powerful lyrics are getting fans attention. 
Chrissy's much anticipated release of "Relentless" is expected to demonstrate to the music industry that the future of music is now. "Big" has all ready been well received by fans because of Chrissy's talented vocals and Rich Cronin's powerful lyrics  
Chrissy's past release of the song Real Woman received favorable reviews and requests from listeners of 107.5 WKZL in North Carolina and 90.3 WMSC in New Jersey as well as winning the "cagematch" two nights in a row on Hot92 "The Beat of Harrisburg" in Pennsylvania. Real Woman was cowritten and produced by Platinum Producer Dow Brain (LFO). Cowriter Taryn Murphy's credits include cowriting/coproducing and singing the theme song in the movie Wisegurls starring Mariah Carey.       
About Chrissy:
Chrissy is an enthusiastic 23 year old who has been singing, dancing, and acting since she was a tiny tot. She hails from Lancaster, Pennsylvania in the heart of Amish Paradise outside of Philly, and has also lived in New York City. She has performed at several regional and off Broadway theaters and supper clubs, including the historic Fulton Opera House, The Dutch Apple Dinner Theatre, American Music Theater, First Stage, Ephrata Playhouse in the Park, and Three Little Bakers and has had roles in shows such as ANNIE, Ruthless!, The King & I, Evita, South Pacific, Annie Warbucks, The Nutcracker, Cinderella, Charlie and the Chocolate Factory, and Les Mis, just to name a few. She has modeled for Sears and Macys and has appeared in local commercials, television shows and industrials such as PopStars 2, Star Search 2000, Al Albert's Showcase and was a regular cast member of "Pete's Place", a children's variety/comedy show.  
She's also been featured in Rascal's Talent Directory and has won many pageants and competitions including Star Power and Showbiz. In addition to that, she has appeared in Will Smith's video clip for "Freakin' It" and many children's instructional dance videos. Chris has won several vocal scholarships to the prestigious Pennsylvania Academy of Music, and has training in classical, broadway and all pop styles of singing. She has taken dance at Koresh Dance Center in Philadelphia and the Broadway Dance Center. She has training in tap, jazz, lyrical, ballet, gymnastics, hip hop, karate, voice and acting. She was in all of her high school's Pennsylvania Music Educator's Association award winning audition groups including, vocal ensemble, chamber choir, glee club, gospel choir and mixed chorus. She is currently a senior at Millersville University of Pennsylvania where she is double majoring in political science and communications with a theater option.  
       
"Big" 
Vocals: Chrissy  
Executive Producer: Evan Shapiro 
Written by: Rich Cronin/Dow Brain and Brad Young 
Produced by: Dow Brain for Underground Productions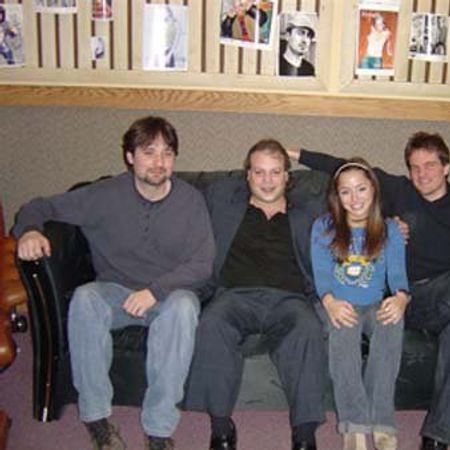 From Left to Right-Brad Young, Evan Shapiro, Cori Yarckin, Dow Brain at Underground Productions in Needham, MA
Press Photos